Restrictions
|
Maps
|
Tom's Home
|
Available Lots
|
General Info
New Mexico Skies
Astronomy Enclave.
Stars remind us of the amazing and wonderful universe that we live in. You can feel the stars and the infinity of the night sky just by walking outside.

At New Mexico Skies Astronomy Enclave, the stars are not to be viewed by the eyes alone; they are best experienced through the passion of the body and the soul.

New Mexico Skies Astronomy Enclave is defined by its dark skies, its solitude, its fresh mountain air, the millions of stars in the heavens above, and a sense that the Milky Way is so close that you can almost reach out and touch it.
TRAVEL + LEISURE
MAGAZINE

®

NAMES
NEW MEXICO SKIES

AS ONE OF
OUR
COMMUNITY CENTER.

Here is a photo of our recently completed COMMUNITY CENTER and MULTI - PURPOSE SHOP BUILDING. Click on the picture for a HIGH Resolution photograph.
Nestled on our lower mountain area, far below the mountain top location of our PREMIER HOME & OBSERVATORY sites is our fully equipped SHOP BUILDING and COMMUNITY CENTER. The Community Center is the perfect place for the non-astronomer to plan their community get-together's, an afternoon work-out session, a pottery lesson or just hang out with other community members. The Shop Building is perfect for building that new observatory, making that special fitting you need for your telescope, or complete that book case you've always wanted to build...
In December of 2008 (two years ahead of schedule), New Mexico Skies Astronomy Enclave completed construction of their 2,280 sq. ft. Community Recreation Center, which includes:
- Pool Table / Ping Pong Table,
- Meeting / Media Room
- Fully Equipped Kitchen,
- Huge Dining Area,
- Two Full Bathrooms,
- Arts & Crafts Room, &
- Work out center.
Thanks to the overwhelming interest in New Mexico Skies Astronomy Enclave, and LOT sales exceeding our expectations, we've moved up our plans for the Community Work Shop. We've completed construction of the work shop in mid- 2009.
The shop building is 30' by 50' in size (1,500 sq. ft.) and it is divided into 3 sections.

- One room is devoted strictly for our Machine Shop, which includes 2 milling machines, 2 lathes, a drill press, and other metal working equipment.

- Another room is devoted strictly for our Wood Working Shop, which includes a table saw, band saw, miter saw, drill press, jig saw, circular saw, sabre saw, and other wood working equipment.

- The Main room will be used as a Welding Shop and as a General Purpose work area. This will be our largest work room and it includes a Plasma Arc Cutter, Stick Welding equipment, MIG Welding equipment, Wire Welders, and Oxygen - Acetylene Welding & Burning torches. This area will be large enough to fabricate most astronomy related equipment, and it will provide an indoor work area large enough to pre-assemble most observatories.

- We have many general purpose tools and various shop equipment available for our community members to use. Saws, drills, generators, and most other common construction tools will be available to "borrow" from our Community Center. If you need a tool to use for a day or two, we'll probably have it available for you. Our developer has spent well over $100,000 on his tools and equipment. He'll be donating many of his personal tools and equipment to the Recreation Center.
New Mexico Skies
Astronomy Enclave,
an amateur astronomer's
dream come true.
2 acre, Home and Observatory sites located adjacent to the WORLD FAMOUS, New Mexico Skies Observatories.



---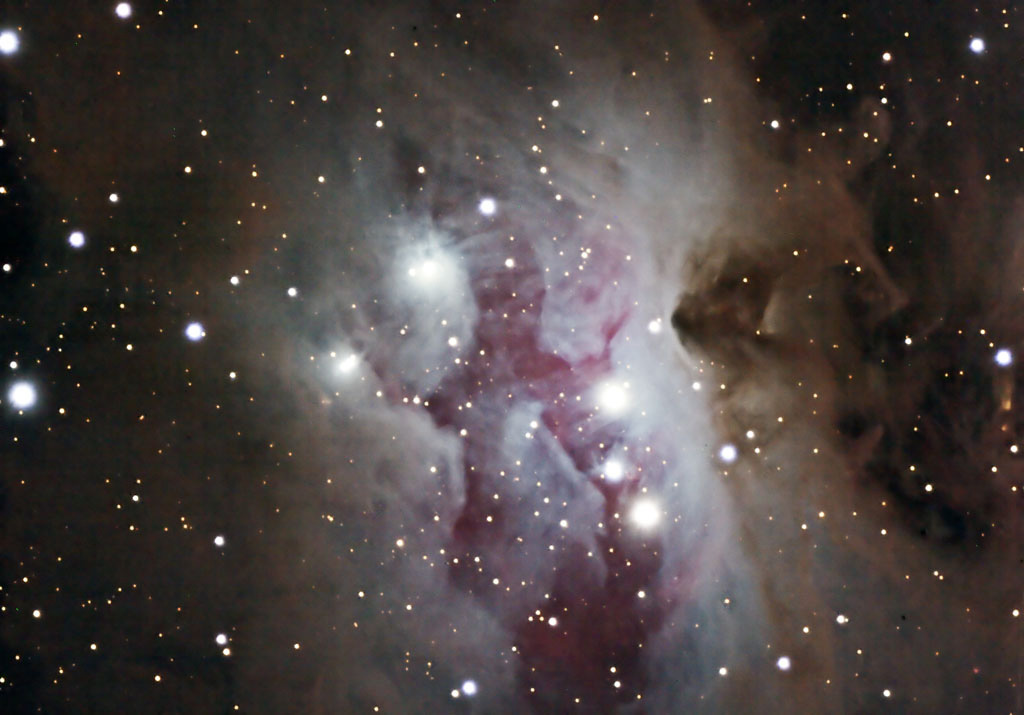 The Running Man. - Eleven 3 minute exposures from New Mexico Skies with a Canon 20Da, one shot color camera and an Astro Physics refractor were combined to create this excellent image. The imager is "still learning" how to process the data, and he's taken no more than 50 digital images. Once he masters Photo-Shop, he'll be an excellent imager.

History of New Mexico Skies.
Mike and Lynn Rice spent five years searching for the ideal location for their Guest Observatory. They searched high and low, they drove countless miles searching for the one, the only site that would be worth staking their reputation on. After finding several sites that were "almost" good enough, they finally came across a small mountain in southeast New Mexico. It was surrounded by the Lincoln National Forest, and the only other residents were one amateur astronomer, herds of deer, dozens of wild turkeys, a few elk and the occasional rabbit.

The seeing at New Mexico Skies on any given night is excellent, and it's regularly below 1 arc second. The darkness was better than anywhere else that they found, with a limiting visual magnitude of up to 7.7. The "transparency" of our skies is phenomenal, day and night. Our 7,280' elevation puts us well above most of the atmospheric borne pollution and particulate matter. The Sacramento Mountains are on the "high desert" and our skies benefit from the clean, dry air associated with desert environments. Fog is very rare, and airborne pollen content is usually low.

The weather here is very special. Due to New Mexico Skies unique location, there is a "micro-climate" that offers us spectacular skies, day and night. In any given year, up to 80% of our night time hours are clear, and we typically exceed 50% of our nights that qualify as "perfectly clear" and "photometric". With pristine skies and as many as 300 clear nights per year, Mike and Lynn Rice found the perfect location for New Mexico Skies.
About YOUR
Home and Observatory Site.
Each home and observatory site is ideally situated such that you'll have excellent views, both day and night. Each lot has a dedicated "observatory only" area, that provides panoramic views of our night skies. Your home site will be situated so that neither your view of the night sky, nor you neighbors view will be obstructed. Plus, the daytime views from your home site are spectacular, and of course, we have all the necessary deed restrictions to protect our precious skies. Additionally, we're surrounded by the Lincoln National Forest, so our dark night skies will remain dark. We only have a limited number of sites available, so once they're sold, they'll be gone for ever.

• A Very Limited Number of 2+ Acre,
Home and Observatory Sites with:
• Astronomy Specific Covenants &
Deed Restrictions,
• Underground Electric & Telephone,
• High Speed DSL Internet Service,
• Community-Wide Water System,
• Home Owner's Association,
• Private Roads.

Property is shown by appointment only. We're a private community of amateur astronomers, and we don't encourage "drive-by" or "lookie-Lou's". In order to respect the privacy of our community, please contact us in advance to arrange a private showing.
Interesting facts.
We're located in Otero County, New Mexico, which has approximately 6,630 square miles of land area (4,243,200 acres). According to 2006 estimates, our entire county had a population of only 62,774, and over 42,000 people live in our 5 largest communities. As a county wide average, that's less than 10 people per square mile, and if you exclude the 5 largest communities, our county wide average drops to less than 3 people per square mile, or about 1 person for every 212 acres. (US Census Bureau data).
Restrictions | Maps | Tom's Home | Available Lots | General Info