TRAVEL + LEISURE
MAGAZINE

®

NAMES
NEW MEXICO SKIES
AS ONE OF
---

About our immediate area.
New Mexico Skies Astronomy Enclave is a private community located in south-east New Mexico. We're an "oasis" of private land in the middle of the Lincoln National Forest. Our location, about 7,200' above sea level in the Sacramento Mountains makes for an ideal observatory site. We're located about 30 miles east of Alamogordo, and about 70 miles (as the "UFO" flies) south-west of Roswell.
Being surrounded by the Lincoln National Forest in a rural part of Otero County, New Mexico, assures us that we'll never have any neighbors to the west, south and the east. To our north is a valley that's over 400' below our mountain top location. On the other side of the valley the Lincoln National Forest continues north for another 6 miles, then the Mescalero Apache Reservation begins and continues all the way to Ruidoso. All in all, we're surrounded by hundreds of thousands of acres of land that will never be developed.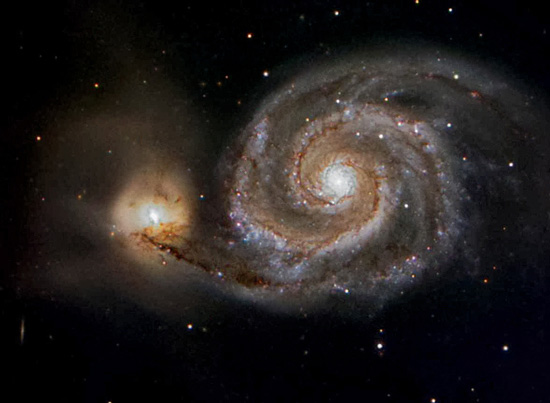 M-51, The Whirlpool Galaxy. This is approximately 3 hours of data collected at New Mexico Skies, with a Celestron 14" SCT, and a SBIG ST-2000C, one-shot, color camera. Data collection and image processing was by a beginning imager. You don't have to be an expert imager to take great images at New Mexico Skies.
About our neighbors.
We're a community of amateur astronomers, and we're dedicated to preserving the excellent night skies. We're committed to making New Mexico Skies a better place to live, observe, image and relax. We all share the common bond of amateur astronomy. It really is amazing seeing how different a community can be when all your neighbors share a common passion.
Once a week, we meet down at the local restaurant for an astronomer's breakfast. It's good to know your neighbors, and to share a meal with them. Many times the discussions lead to valuable new ideas, other days it's a relaxing get-together for new and old friends alike.
No matter what your skill level, you'll find a neighbor who can help you with those "tricky" issues. We've got a neighbor who is an expert visual astronomer. He can find a "faint-fuzzy" object by hand, quicker than most "go-to" scopes. We've got another neighbor (or two) who has proven himself to be an excellent, advanced imager, and you'll find folks of all skill levels willing to lend a hand. If you're an expert, or if you're a novice, you'll fit in just fine. All of us have varying skill levels, and we're all eager to lend a hand, or to learn a new skill.
If you need something welded, you'll find conventional stick welding, MIG, TIG, gas and aluminum welding equipment right here on the mountain. If you need a part machined, we've got most of the equipment you'll ever need (drills, saws, milling equipment and lathes). Need help designing an new observatory, or roll off? You'll find your answers just a few steps away. Need help polar aligning that new Paramount, or collimating your Ritchie? You'll find someone who can offer assistance right next door. What ever your needs, you'll find the right person on the mountain.
How to get to New Mexico Skies Astronomy Enclave.
If you're flying commercial airlines, you can fly into Roswell, NM (about 2 hours, 15 minutes), El Paso, Texas (about 2 hours, 20 minutes) or into Albuquerque, NM (about 4 hours). If you're flying a private plane from the west, Alamogordo has nice airport (Alamogordo-White Sands Regional Airport), but be sure to pay attention to the White Sands Missile Range, Holloman Air Force Base, and Fort Bliss. Private planes from the north can land at Sierra Blanca Regional Airport near Ruidoso, and if you're flying in from the east, consider the Artesia Municipal Airport.
If you're driving, we're located 40 minutes east of Alamogordo, New Mexico; 15 minutes east of Cloudcroft, NM; 4 minutes west of Mayhill, NM; 75 minutes south of Ruidoso, NM; 135 minutes southwest of Roswell, MM; 65 minutes west of Artesia, NM; and 140 minutes north of El Paso, Texas. Once you get in our area, you'll find Highway 82 to be an excellent, paved road. We're located on the south side of Highway 82 at mile marker 31.7. After you leave Highway 82, it's about 1-1/2 miles up the mountain to New Mexico Skies. You can find several local maps here: NM Skies Maps
LOCAL CLIMATE -
MAYHILL RANGER STATION,
ABOUT 3 MILES AWAY.
1971-2000 Monthly Climate Summary
Jan

Feb

Mar

Apr

May

Jun

Jul

Aug

Sep

Oct

Nov

Dec

Year

Avg. Max. Temp. (F)

53

56

63

67

74

82

80

78

75

69

58

52

68

Avg. Min. Temp. (F)

21

24

27

32

41

48

52

51

46

37

26

21

36

Avg. Total Precip. (in.)

0.7

0.5

0.3

0.5

0.7

1.3

3.6

4.1

4.3

2.3

0.7

0.8

20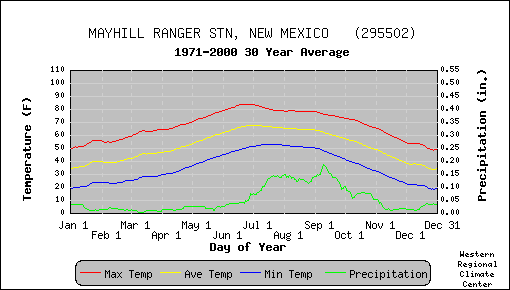 Data is smoothed using a 29 day running average.
- Max. Temp. is the average of all daily maximum temperatures recorded for the day of the year between the years 1971 and 2000.

- Ave. Temp. is the average of all daily average temperatures recorded for the day of the year between the years 1971 and 2000.

- Min. Temp. is the average of all daily minimum temperatures recorded for the day of the year between the years 1971 and 2000.

- Precipitation is the average of all daily total precipitation recorded for the day of the year between the years 1971 and 2000.
OUR CLEAR SKIES....
Here's a few word from the "experts" on our local climate:

SUNSHINE – Plentiful sunshine occurs in New Mexico, with from 75 to 80 percent of the possible sunshine being received. In winter, this is particularly noticeable with from 70 to 75 percent of the possible sunshine being received. It is not uncommon for as much as 90 percent of the possible sunshine to occur in November and in some of the spring months.
RELATIVE HUMIDITY – Relative humidity ranges from an average of near 55 percent about sunrise to near 20 percent in mid-afternoon; however, afternoon humidities in warmer months are often less than 20 percent and occasionally may go as low as 4 percent. The low relative humidities during periods of extreme temperatures ease the effect of summer and winter temperatures.
WIND – Wind speeds over the State are usually moderate, although relatively strong winds often accompany occasional frontal activity during late winter and spring months and sometimes occur just in advance of thunderstorms.
Depending upon which climate website you go to, you'll find that New Mexico Skies Astronomy Enclave will experienced between 260 days and 300 days of sunshine each year. That also means that you'll have 260+ nights of excellent imaging. It won't take you long to get spoiled.
In the early spring, winter and late fall, you can wake up to 30 degree mornings. We regularly sit on our deck, with a cup of coffee in hand, enjoying the sunrise. On most mornings, all you need is a long sleeve shirt or a light jacket. The humidity is so low here, that you don't feel a chill in the crisp, clear morning air.
You'll really enjoy our weather here at New Mexico Skies.

New Mexico Skies,
Where the SEEING is Believing...
Health Care
Nearby Cloudcroft has three medical offices, Presbyterian Medical Services, Terra Rosa, and Mountain Back Care. In Alamogordo you'll find dozens of health care facilities ranging from single doctor practices to the Gerald Champion Regional Medical Center (our closest hospital). In Alamogordo, you'll find chiropractic clinics, an imaging center, a cancer center, the New Mexico Heart Institute, the New Mexico Brain Institute, Natural Health Clinics, immediate care facilities, and many more quality health care facilities. Ruidoso has many health care providers and the Lincoln County Medical Center (hospital).
What ever you health care needs, you'll find quality medical facilities in our nearby communities.
Shopping
You'll find a couple of restaurants, a gas station, and a convenience store in Mayhill (about 3-4 miles to the east). About 17 miles to the west, Cloudcroft offers many small, boutique style shops, a gas station / convenience store, a small grocery store, several restaurants, the landmark LODGE RESORT and SPA, and your "typical" small town shops. About 30 miles to the west, the city of Alamogordo offers excellent shopping. "Alamo" offers everything from the small "mom and pop" stores to LOWES, Home Depot, KMart, JC Penney's, a super Wal Mart.